Cromemco Hellas A.E.
Σουλίου 1 & Λ. Πηγής , 151 27 ΜΕΛΙΣΣΙΑ - ΑΘΗΝΑ
Τηλ 210-6130 366, 6135 866 , Fax 210-6139 787 , E-mail: info@cromemco.gr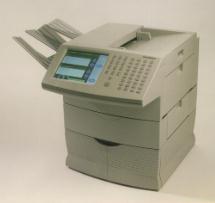 The CDS Cromemco Document Server is the world's newest document storage and retrieval system. It is the first such office system to electronically store a true image of office documents and then be capable of retrieving a true image of a desired document on demand. Most important, the CDS is a complete solution that addresses the scanning, storage, and retrieval needs of an office electronic document management system.
The CDS is designed to operate in a workgroup environment. In fact the CDS itself is a network server with a local area network connection. Any client in the network (Windows '95 or Windows NT workstation) can be used to search, retrieve, and display images of documents that have been scanned by the system. The retrieved document may then be printed out on the internal system laser printer, or any other network printer. The CDS includes both the server software and the client software for a complete document management solution.
The CDS server software adopts mainstream industry standards. The operating system is Microsoft Windows NT Server, and all document images, and indexing information, is stored in a Microsoft SQL database. Within the SQL database, documents are organized in folders and may be retrieved by the folder name. In addition, keywords may be added to any document or any folder, and retrieval may be by keyword.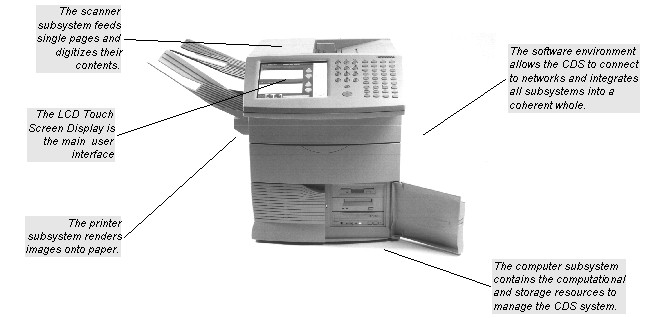 The system is very easy to use. From any workstation, each user defines or selects the folders into which he or she wishes to scan documents. These folders are then displayed on the system front panel touch panel. All that is required to scan a document is to select a folder from the system touch panel, then press the green button to start the scan. No other action is required.
A unique feature is that documents can be scanned with high-resolution 400 dpi accuracy and with 256 levels of gray scale. This assures that the document image accurately preserves the original document, even if that document contains photographs, or is very faint, or of poor quality. For cases where such high quality is not required, the user may select lower resolution. Documents can be scanned and stored with 200 dpi and full gray scale at a rate of 20 pages per minute. With 400 dpi resolution the scan rate is 10 pages per minute. The images are compressed in real-time and stored in JPEG- or TIFF-format. In addition other page sizes (up to A0) can be scanned in to the system via external scanners that are using a TWAIN- or ISIS-interface.
The system can typically be used to scan and store about a million document pages. About 100,000 pages can be stored on the system's internal disk drive. Additional external storage capacity can be connected to the SCSI port, or can be accessed anywhere on the local area network in order to store additional page images.
By adopting industrial standards the CDS easily meets particular customer requirements. Instead of the standard Ethernet controller a FastEthernet controller can be used. In fact every network controller with Windows NT support can be installed to integrate the CDS into a network. The CDS and its clients can communicate via all network protocols that are supported by Windows NT:, e.g. NetBEUI, TCP/IP, IPX/SPX. To ensure highest data availability and security external RAID systems can be connected, or a Cromemco FT-400 Fault Tolerant Server Series can be attached as backup server.
Additionally Smith may assign keywords to the document which specify its content. Later this document can be retrieved either by specifying its name, by specifying its keywords or a combination of both.
The following figure shows a typical network configuration: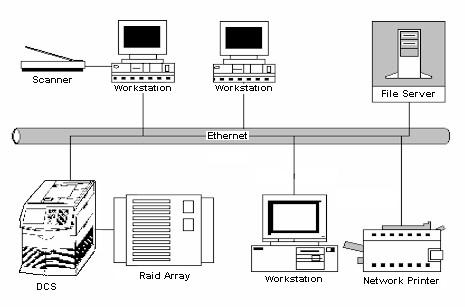 Technical Specifications
Computer
Microsoft Windows NT Server
64 MB expandable to 256 MB
4 GB - 24 GB per tape (4mm DS technology)
400 dpi x 400 dpi, 10 ppm / 200 dpi x 200 dpi, 20 ppm
256 levels or bitonal (selectable)
Paper Feed / Feeder Input Tray
Automatic Document Feeder 50 sheets capacity
5,8" - 8,5" (13,7cm - 20,1cm) / 4,13" - 18" (9,7cm - 42,5cm)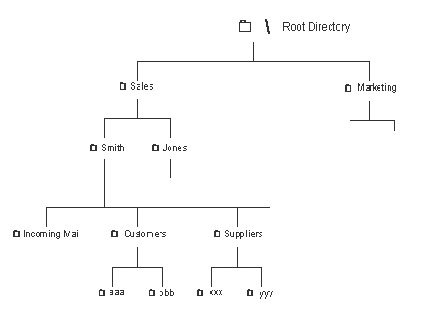 Technology / Print Accelerator
Laser / JPEG micro-engine
500 sheet capacity A4 or letter size
100 sheet capacity A4, letter, or legal size
Ethernet 10baseT or Thinwire
Windows '95 or Windows NT
16 MB minimum recommended
16" W x 23" D x 20" H / 80 lbs.
All Trademarks acknowledged.
Technical Specifications are subject to change without notice.
© Cromemco MPCT GmbH, 07/97
This diagram shows a typical folder organization. Each department in a company has its own folder under the root directory \, e.g. the sales and the marketing department. Each employee in the specific department also has his own sub-folder, which is organized in several sub-folders, like incoming mail or new documents. On receipt of the incoming mail it is scanned and electronically distributed to the recipients. The document will be stored in the recipients "Incoming Mail" folder. The recipients, e.g. Smith may move the documents
from his incoming folder to its destinations, e.g. correspondence with the supplier xxx into the folder \Sales\Smith\Suppliers\xxx.